Efficacy Measure 1: Waring Graph A
This shows the proportions of 'eyes' that reach the different visual acuity thresholds – allowing an easy comparison between pre op 'corrected' vision and post op uncorrected visual acuity. This is a analysis of the Quarter September – December 2019
Perhaps most interesting here is that in this sample – no eyes had a super high acuity (20/12.5 equivalent to 6/4) PRE OP but 6% managed this level without correction POST OP!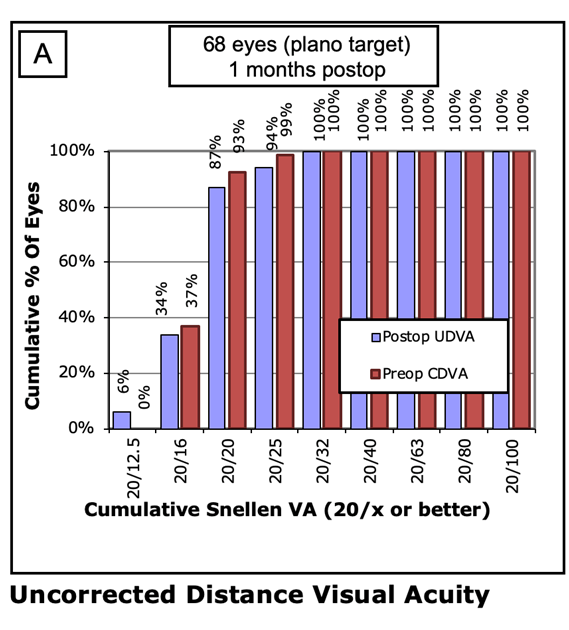 Efficacy measure 2: Waring Graph B
Here we use pre operative corrected (with glasses) visual acuity and compare how close to this a given eye achieves without any correction (glasses) post op. This is an analysis of the Quarter September – December 2019.
In this sample 74% of eyes have a visual acuity level which is at least the same level as their pre op best corrected level and in fact 96% are within 1 line of that vision level.
Each Eye treated with laser vision correction (all subtypes) has a:
Chance of having exactly the same or better, level of vision without glasses being required as they did prior to surgery with the full glasses correction on board
96/100 chance of being within 1 line on a distance chart of their pre operative corrected vision.